What is the first thought you have when you come across the term Feminism? Probably shrug off saying they are women's rights or welcoming to hear what is in store? If you are the former, then you have to understand what it stands for. For the latter choice, then you are in for a treat here for a brighter perspective on How Pseudo Feminism is Disgrace to the Society. W
Wondering how pseudo feminism comes into play under this topic? Well, it is a necessary point of discussion which helps in a better understanding of Feminism and essential counterparts. Just like how you need a villain to get to know the hero of a film in its full form. Makes sense? Keep reading and you will figure it out.
Recently a controversy regarding the 'Boys Locker Room' and 'Girls Locker Room' has been around which threw light on the possibilities of taking Feminism in the wrong sense and undermining the movement for one's benefit. While the probability of the nature of the event is acknowledged, it remains a heinous approach mocking not only the Women's rights but also Men's rights. Of course, every gender is under scrutiny with such notions but I will be talking specifically on the binary roles here since they were the ones affected the most in this case.
You may ask how Men's rights are the talk under Feminism. That is exactly why you have to know what makes up this movement and how it is part of the human rights in general. With fake cases and speculations on the rise, this becomes a crucial point to observe for taking a stand on the same. Learn more on How Pseudo Feminism is Disgrace to the Society.
Feminism
What is feminism? If you go by the google definition, it is nothing but
"the advocacy of women's rights on the ground of the equality of the sexes".
To elaborate on it, feminism talks about the upliftment of women's rights in society at the forefront along with distributing equal rights to all the sexes existing within. In short, gender equality.
The concept of feminism lies primarily to advocate women's rights. But that does not mean that no other gender can consider themselves a feminist. Any person belonging to any gender can assume the title of being a feminist. It does not apply only to women. The ideology behind this is not dominance but equal opportunities, responsibilities, and choices as given to men.
Patriarchy is the main factor that the feminists look down on and thrive to abolish from the grounds of society. This has been a part of the history of every country in some way and continues to be so. The reason that feminism confuses people is that it is the female section of the society that follows this principle in large because of obvious reasons. That does allow one to presume that it is dominance and overpowering that this category looks into.
Understanding Feminism
Another key factor that this ideology mocks upon is sexism. Now, what is sexism? It is the undermining of other genders by showing off supremacy from one perspective. Patriarchy and sexism pretty much intersect on the same lines. For example, take a woman who chose to be a housewife by choice and not force. The decision on the financial strife is a point of discussion between the couple. Now observing this condition, these are some things you can learn:
If the husband tells otherwise since it is something followed through generations and leaves the woman no choice but to assume the role of a housewife, it shows a dominance of the "man's world" or one gender in the family. This is patriarchy. 

Supposing the husband assumes that a wife (or any woman) is suitable only to cook food and childbearing, then he is a sexist. 

Considering the couple takes a stand on the wife being a homemaker through a mutual consideration, then the husband is (can be) a feminist. 

Assuming the woman decides to be a housewife by choice, that does not mean she cannot be a feminist.

If the housewife is accused of the above claim then the 'feminist' claiming that statement is not a feminist but comes under the idea of

'pseudo' feminism.
Pseudo Feminism
It is a bit confusing to understand the differences between the respective terms (given above). But as you read you get to realize its nature and its effects on large. And also, these are just one kind of examples taken to briefly sum up the characteristics of the terms. This is necessary to stress the main objective that we are arriving at which is Pseudo Feminism.
Breaking down the term, pseudo refers to someone fake. Hence the idea adding to it is that it is those people who claim to be feminists but their actions do not really hold to the claim. This abstract idea advocates hate over men and whatever they do irrespective of being right. The supremacy of gender comes into play by considering that 'every man is the same' notion.
The spite and revengeful aspect (maybe due to their experiences) come in a misunderstood form of generalizing the wrongdoing by subjecting it to all men. Of course, the issues of patriarchy and injustice must be a motive to drive the movement of feminism. But nowhere does the term stand for dominating or subduing a person just because he belongs to a particular gender. 
Pseudo feminism has also another aspect to transcribe its features. It is that the pseudo feminists more often boast that whatever women do is right and can never be an act of condemnation. This is where the major part of the problem arises. If women set out under this notion, where is the element of equality in it? It is merely the parallel version of patriarchy. 
Pseudo feminism and its effects 
You might think this would not cause any harm to anyone. Well, Surprise! That is not true. Having an opinion on certain beliefs is totally acceptable. But when it comes at the cost of harming others under the misinterpretation of a movement can cost so many people's living. Let me bring in a clearer distinction.
There is an incident that went viral on the internet some years ago wherein a girl pours acid on a boy since he did not have the courtesy to stand up and offer the seat to her. Who is the real victim here? This would have been a totally different scenario if the girl, like any kind gesture, asks the boy to permit some space for her. If he disrespects the girl or mocks her in any way, then pointing it out is a good call. But nothing of that sort happens and just like that, a boy becomes a victim of something he is unaware of doing so. 
Due to such thoughts and irreplaceable actions, the sole purpose of the movement of feminism gets lost in the wind. People who confuse the meaning of this concept with pseudo feminism tend to misunderstand that the real argument underlying it. This uneventfully leads to a situation of chaos wherein the society segregates itself on the basis of different understandings of the same term.
Today, a huge part of the masses continue to adorn themselves with the misguiding title for feminism which follows with a group of individuals accepting it. The wave of pseudo feminism progresses as a form of threat to not only men's rights and well-being but also women's.
How Pseudo Feminism is Disgrace to the Society
Here is an example of how pseudo feminism goes.
This year, a famous reality show in the country telecast an episode wherein there was a briefing of a contestant. In the middle of the conversation, the contestant reveals (or rather confesses) that he slapped his ex-girlfriend because he came to know that she was cheating on him with more than two other boyfriends. All of a sudden the episode becomes a dramatic turn of events. Among the five judges in the scene was one female judge who was well-known for her feminist stand.
She then shames him for his actions and puts him on the spot by asking what right he had to raise a hand on a woman. This was a very decent way of questioning his intentions because no one has the right to physically abuse or proceed with violence for such cases. Self-defense is a considerable exception but that discussion can probably be for another time. Getting back to the episode, the contestant keeps justifying his position and the judges take chances at making some sense into him. The female judge in the name of siding with the supposed girlfriend, then shouts out saying "It's her choice, she can have three or five boyfriends."
This is where all tables turn to her perspective of feminism. The act of violence is offensive irrespective of gender. While also the act of cheating in a relationship is a horrendous crime, irrespective of any gender. One cannot state that just because a woman pops up in a scene, either of the conditions is acceptable. That is not what feminism stands for. Further, the judge tries to find fault with the guy because of which she might have opted for different 'choices'.
Pseudo Feminism- Fight for domination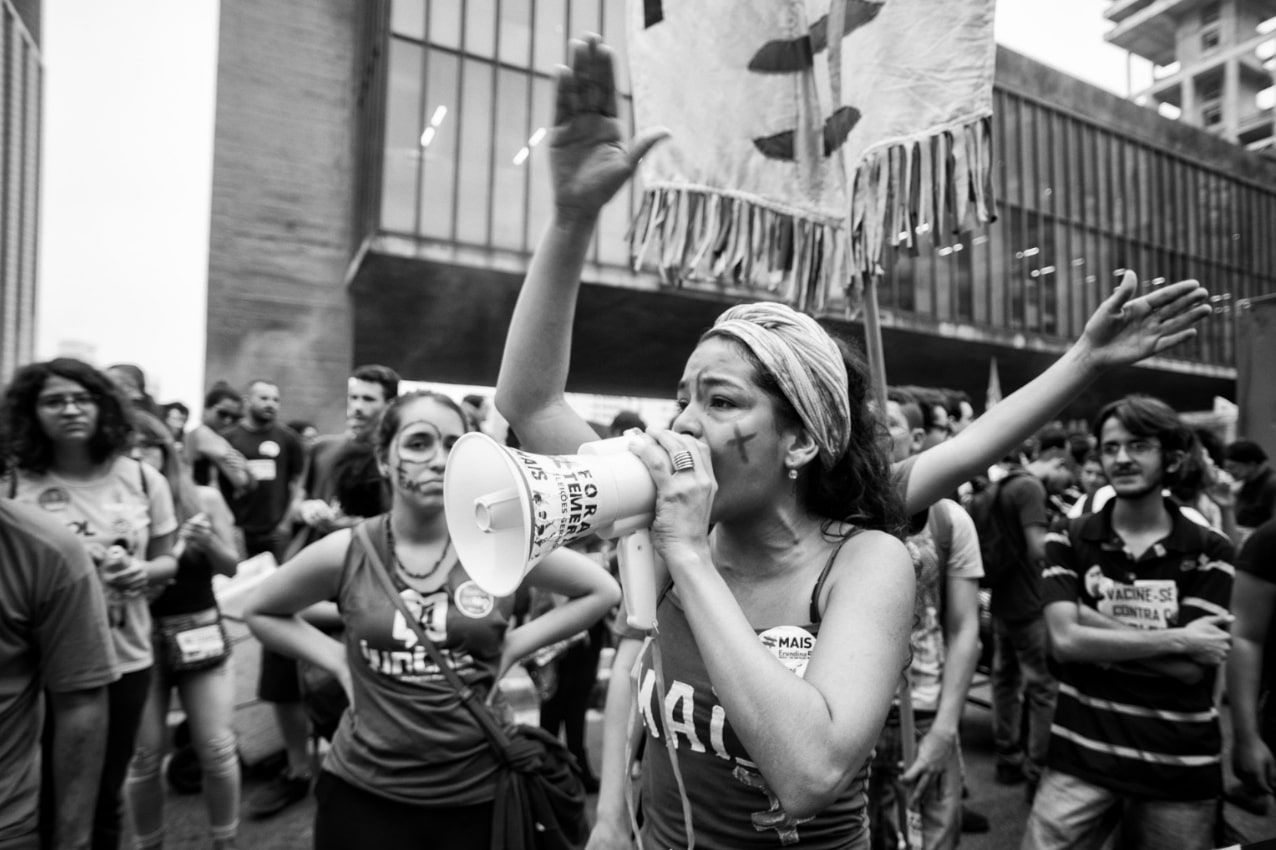 This is a further read on how pseudo feminism is a disgrace to society.
The reality show example was again one of the aspects of the outlook of how feminism is wrongly perceived. Domination of the women's gender is not what it is thriving to achieve. It is the equality of genders and not just supremacy of one particular gender. Why does this ideology come in with so many items of baggage? The way I see it, it is mainly because of the breaking down of generations of practice that has become a normalized routine. That is Patriarchy.
This was an evolving concept in various ways over the years. Suddenly when certain beliefs are brought into the question, it does take time to accept the change. But in the name of getting rid of this conviction, an aligning progression of matriarchy is witnessed. So where is the achievement that you wish to attain? Disrespecting or demoralizing any gender is a crime. But pseudo feminists do not gather up sufficient knowledge on this before they make this opinion of theirs. It wreaks havoc within the women's circle which creates a tattering effect.  
Fake cases 
Talking about the features of pseudo feminism, fake cases have been in the play for long as well. One of the driving factors for the explanation of how pseudo feminism is a disgrace to society are fake cases. The #metoo uproar was a step forward for every feminist who came into the spotlight to reveal their experiences. It gave a lot of women the confidence to put forward the truth breaking the facade of various men. But there is a counter note to it. Witnessing these effects, a section of women began believed that they can use the advantage of the law to teach men good lessons.
This is a very sincere motive if the men you are targeting or wanting to target is a part of an injustice action. Or even remotely responsible for teasing the women. But that was (is) not how those particular set of women look at it. The application of fake cases sneaks in this fraction.
False Accusations
A classic example to study this aspect is Johnny Depp and Amber Heard's marriage controversy. While we may not know the exact array of events per se, here is a snippet of their life together growing to be a public dispute. 
They married in the year 2015. One month into the marriage, news of unrest in their household starts arising. Later when they got to the point of divorce in 2017, the reason as Heard was claiming was verbal and physical abuse by Depp. 

Once this information was out, there was a bunch of people shaming Depp for his instability and arrogance. He constantly said that it was not him but Heard who was abusing him. But most people shrug him away and began to despise the man. His career in films also took a huge drop in these times with the constant agreements and lawsuits against him. The public figure of him also began to dismantle slowly. 

Later, Heard confesses that she did abuse him through the years of their marriage because she was not able to control her anger at times. 
Visit Men's Day Out for many such stories & Cases
Pseudo Feminism- Blind Followers
The Depp-Heard story took a lot of people by surprise. Especially the bunch who support Heard and advocate women's rights (backing up Heard). The surprise came in because Depp is a man and a victim too. How can this go along together was the question in a lot of people's heads. That is exactly the problem of titling yourself as a feminist without understanding this notion.
Every gender experiences sorrow and certain traumatic experiences. Women are indeed part of the majority in this case but that does not mean it cannot happen in the men's lives. They are also victims of many domestic, physical, and sexual violence. Comparing such experiences based on gender appropriation is not a way to solve it. It is necessary to respect each other's political, economic, and societal responsibilities and choices. Labeling only the women's position to be the only worthy existence is not the ideology behind feminism but pseudo feminism. 
Hence, educate yourselves on such topics before declaring yourself a feminist or a non-feminist. Though it might sound conflicting to a lot out there, these points remain factually true. Ending on this note, remember that standing up as a supporter of feminism is never shameful or an embarrassment. But pseudo feminism is a disgrace to society.