What can a list of Top 10 Cameras for Your Next Tour bring in any importance to you? Are you a travel enthusiast? Are you the most excited to plan out a trip than anything else? But what about the perfect clicks that you wish to have for going down the memory lane? Smartphones can be pretty good but the amusement of clicking through your cameras is just much more fun. Exploring new places and cuisines is a sort of meditation to many out there. Clicking a picture of the right moment with all the rustic details is the best feeling ever!
Haven't you thought about buying one before? Well, not to worry because we got you sorted there. We have the perfect go-to list for you to start planning on buying the best cameras to accompany you on a tour. Here is the list of Top 10 Cameras for Your Next Tour. This list includes cameras that are within the range of 60k which makes it even the more reason for you to take interest in.
Canon Powershot G7 X Mark II
Canon Powershot G7 X Mark II produces the best quality image under the JPEG format. It auto-focuses light settings giving you just the right amount of texture you need for the picture. It has positive reviews on the image quality when it is shot in RAW format too. It is equipped with an excellent touch screen function with a built-in ND Filter, Flash, and Wi-Fi. The video features are not much on the higher ratings but the picture quality stays unhindered in every mode.
Price: Rs. 40,395
Sony CyberShot HX 90V
Sony CyberShot HX 90V is another Digital Camera that provides exceptionally well-proportioned images to the table. It has a sharp 30x zoom lens and gives in quick focus. The structural design is compact and hence light to carry around during travels. The control layout function is pretty solid. It has a built-in Wi-Fi and GPS which is a perfect combo for a travel package (in case you get lost in your adventures). The RAW support is comparatively weak in this camera and also a bit pricey for a DigiCam.
Price: Rs. 27,770
Nikon D5300

What's with a camera list without a DSLR camera? And Nikon is one of the proven best in this field. As big as the weight of DSLR is in question, Nikon D5300 comes with a pretty well-equipped protection pack, starting with a firm hand grip. There is no shutter lag per se when you pre-focus. It comes in vibrant color (settings) and works excellent for respective light conditions. Download speeds are quick and the arrangement of menus on display is logical. The battery life is improved from its predecessors. The flash settings can be disturbing at times but it turns out to be a delight for an average expectation. There are alternative packages for the same model of Nikon D5300. The price range differs accordingly.
Price: Rs. 36,900 (Starting range)
Nikon D3500
The D3500 is affordable and provides exceptional comfort for a beginner's level. It comprises a Guide Mode that helps you through the process of the smooth functioning of camera functionalities. The 24 Megapixel sensors bring in good quality images that also relatively look impeccable on print. It works exclusively well in capturing still images more than video making. If you like to have the joy to own a DSLR for its stills, then this can be the one for you. Nikon D3500 makes the cut to the Top 10 Cameras for Your Next Tour owing to its liberal pricing range.
Price: Rs. 28,700 (Starting range)
Sony A68
The Sony A68 is a suitable option for both professional and beginner levels. It is super-efficient in terms of usage and result. It functions smoothly and gives you an unhindered experience while shooting films. There is stability in the auto modes with intricate detailing of colors and exposure. It does not have Wi-Fi and a touch screen facility. But it marks as one of the most accurate creations in the world of DSLR. The pricing also makes it a win-win situation if you are into a lifetime investment.
Price: Rs. 46,500
Canon EOS 200D II
Firstly, this camera is a lightweight build with very user-friendly controls that enhance a smooth shooting process. The battery life is also strong enough to get you through an active day of travel. Experts recommend this model to newbie photographers who wish to experiment with the techniques on a basic level. Like its first model in the same series, Canon EOS 200D II is not specifically subject to professional users except if they are looking for a kind of back-up for lighter events.
Price: Rs. 52,995
Nikon D5600
This is a well-built camera in terms of the target audience that it looks for. It mostly appeals for (again) newcomers in the business. The battery life is particularly commendable. The autofocus is said to work well for action based clicks. So if you are into playing sports, the focus adjusts accordingly and sets up a good picture. Certain compromises on the construction of the camera like the absence of an additional command dial are evident here. But it seems minimal if you only consider the overall performance of the camera, which tends to match your expectations.
Price: Rs. 40,995
Canon EOS 750D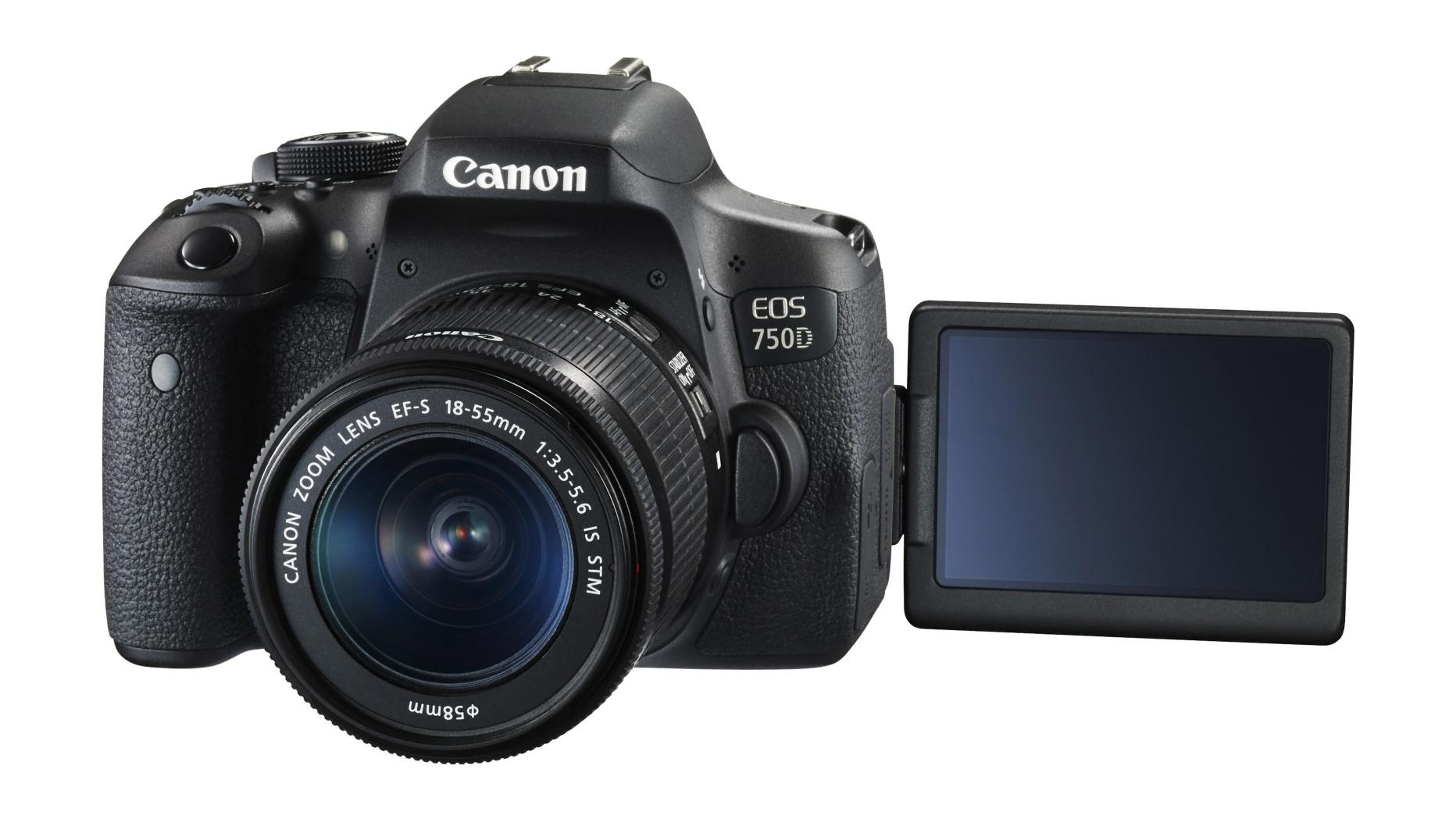 This camera comes as a delight to first-time buyers because of its considerate pricing. For a DSLR, the value in terms of the cost and the final output is just satisfying in the Canon EOS 750D Model. It comprises an active touch induced screen which is simpler to navigate while shooting stills and videos. It is user-friendly and feels just like another digital camera but with all the ace skills of a DSLR. With a decent price range and decent amenities to use, it could be the perfect camera you are looking for right now.
Price: Rs. 39,999
GoPro Hero 7
Looking for a camera that helps you to vlog your adventures and journeys? Then this is the right one for you. You can capture all your favorite travel experiences for documentation or just memory purposes. It is a flagship sports and action camera specifically designed for easing photography during travel. The quality of 4k stills and film is also excellent. It comes with relevant accessories to fit in on objects as well. If you are interested in these kinds of cams, different series from the GoPro models are available in the market. It is pretty fun to shoot with too.
Price: Rs. 27,999
Fujifilm Instax Wide 300
The retro enthusiasts are sure to find this camera soul-stirring. The model Instax Wide 300 is one of the better options if you are looking for a wider Polaroid shot. In the Mini versions of Fujifilm, the pictures turn out to be small (unless you prefer that way). The whole picture you intend to capture might not work in that case. But for this model, it not only gives you a wider angle but also good quality prints. Landscapes seem almost magical with its output on the film. The light and exposure settings work decently well. You could also write down a note or so on to the print which is quite a memory to keep.
Price: Rs. 8,490
I hope you liked this list of Top 10 Cameras for Your Next Tour. Tell us what you liked best among the top 10.