Lipsticks are known to have a class of their own. Be it any event or meeting, a color pop in the lips can take your overall look to seem like an eye-pleaser. Even a casual outing with friends will make you stand out with just a flush of color. And by color, it need not be only bright ones that I am referring to. Even the nude shades can lift your personality and give the best results. This list of Top 10 Lipsticks Brands In India includes all kinds of lipsticks. The popular ones, underrated ones, best red lipsticks in India, and even affordable liquid lipsticks in India.
There are quite a few brands in the market in India that have excellent cosmetic history. Each person enjoys a particular set of brands or brand which is more suitable for their skin tone. It varies tremendously among the masses on the basis of duration, affordability, suitability, and of course the likeness to the brand. Some people tend to never change a brand because they trust it the most. And also since it works marvelously for their skin requirements. But brands that are very popular and have the best reviews usually have a high price range. Affordable lipsticks in India are a handful in number. The quality of the cheaper ones is another concern to look into.
Considering all these limitations, the list of Top 10 Lipsticks Brands In India made sure to comprise every price range with the best of quality at hand. There can be no compromise in buying lipsticks anymore. Everyone can own a great shade of colors without having the doubt in its standard. Scroll down to know the best ones in the market and get to choose your favorite among these.
This is one of India's leading cosmetic brands that includes natural ingredients as its main constituent. Lotus Herbals claim to blend the knowledge of the Vedas and modern technology resulting in the natural essence of the cosmetic range. They have some of the best, reasonable lipsticks in India with Ayurvedic elements as a significant component. Some of the popular and classic ones under this brand include Lotus Herbals Pure Colors Matte Lip, Lotus Herbals Pure Colors Lip Color, Pink Crush, Lotus Herbals Ecostay Lip Color, and Peach Creme.
Among this Lotus Herbals Ecostay Lip Color is a favorite among regular buyers of this brand. It not only gives a shiny color but nourishes your lip with all the herbal benefits. It has UV protection with SPF 20 and comprises hydrating elements to keep the moisture of the lips intact. And for more hygienic factor, it is preservative-free too.
Price Range: Rs. 250 onwards

Rimmel is originally a cosmetics brand from Britain. What began as a perfumery, later became a brand of make-up and cosmetics in general. The most famous product among the numerous varieties is the mascara. But they do let us down in their amazing range of lipsticks either. Rimmel promotes itself as an opportunity to self-express and not just mere beauty entitlements. This indeed makes them stand out from the rest of their contemporaries.
If you want to shine on with the masterpiece shade of red, then Rimmel Lasting Finish by Kate Moss Lipstick is one of the best red lipsticks in India to opt for. It gives out a radiant, fresh look and nourishes the skin with its smooth, creamy texture. Rimmel Apocalips Lip Lacquer is a liquid lipstick that provides a rich color and a smooth finish to the lining of the lips. Rimmel Moisture New Lipstick is another popular hit. It exerts high moisturizing properties with Vitamins A, C, and E present for the protective envelope of the skin.
Price Range: Rs. 300 onwards
The Polish cosmetics company has been in the industry for around 30 years, marking a strong firm in the market. It boasts a collection of 400 different shades of lipsticks to its credit. Each of them unique with their distinct properties and primary constituents. Their pricing comes a bit costlier than the first two of them. But for what it is worth, you would never find the price as a barrier. Inglot lipsticks stay for a longer duration and do not give the lips a dry look. The lipsticks are also not run into animals for testing.
The best recommendations for this brand are Inglot Matte Lipstick and Inglot HD Lip Tint. These two are a boon for the make-up lovers. The matte lipstick has the nourishment of vitamin E, macadamia oil, and avocado oil in it. These properties enhance the skin to be smoother too. Inglot HD Lip Tint is one of the affordable liquid lipsticks in India. It gives a silk-matte finish and stays on the lips for a long period. Smudge-free and radiant at the same time. From celebrities to make-up lovers, everyone adores this liquid matte lipstick.
Price Range: Rs. 300 onwards
Avon is among the best-selling cosmetics and personal care products in the world. They have huge retail markets in almost every country. One of the reasons that they excel is their reasonable price range. It definitely falls under the list of affordable lipsticks in India. And, with the amazing reviews from the users, it definitely deserves a credit in the Top 10 Lipsticks Brands In India. They even support various social movements with respect to women and their livelihood, making them socially very responsible as well.
Their most in-demand lipsticks include Avon Ultra Color Ignite Lipstick, Avon True Color Hydrating Lip Color, and Avon True Color Perfectly Matte Lipstick. The benefit of their amazing collection of lipsticks is that it does not crack or run dry that easily. It tends to keep the moisture intact leading to a fresh look every time you wear it.
Price Range: Rs. 200 Onwards
This amazing cosmetic range is now a universal symbol that most of the people around the globe enjoy wearing. Revlon has an integral charm and an equally rustic look with their collection of lipsticks that it has become a cult-favorite among people. And these have one of the most affordable liquid lipsticks as well.  Every person who is madly in love with make-up would have come across Revlon's lipstick collections and owned them for sure.
The popular ones among their lipstick stocks include Revlon Color Burst Lip Color, Revlon Super Lustrous Lipstick, Revlon Ultra HD Matte lip Color, and 'Kiss Me Coral shade'. The lipsticks contain lightweight colors that do not go too heavy on the lips. It soothes your skin and gives a pleasant look. From the wide range of colors to choose from, most of the ones are made in a way that complements the skin tone naturally. That is, it offers a lavish and a subtle texture to the lips.
Price Range: Rs. 300 Onwards
Colorbar cosmetics has its origins in India but also comprises a wide influence from LA and the Middle Eastern countries. It had its launch in the year 2005 in India and went on to grow surprisingly fast over the years. Today, the brand has its foothold in most of the leading showrooms like Shopper's Stop, Trends, Lifestyle, Pantaloons, and so on. They bring about an exquisite range of colors that will satisfy your lipstick and craze and complement every kind of outfit. Colorbar understands the Indian audience and pulse in the market resulting in its amazing growth rate.
The select-best lipsticks of Colorbar include Colorbar Velvet Matte Lipstick, Colorbar Kiss Proof Lip Stain, Colorbar Take Me As I am Lipstick and 'Hot Hot shade'. The Velvet Matte Lipstick simply comprises one of the best red lipsticks in India. Their perfect finish has no competition as it is the best one to look out for. The products also include shea butter, essential vitamins, and oils among other ingredients nurturing the lips as it should be. Colorbar products are cruelty-free and certified by PETA.
Price Range: Rs. 200 Onwards
Hindustan Unilever owns this cosmetics and skincare collection, making it an Indian brand. Anushka Sharma is the brand ambassador of Elle 18. Her commercials for lipsticks and kajal were the talk of the cosmetic town for a long time. From its inception in the year 2012, Elle 18 has come to reach great heights standing equally to other universal brands. The main reason for their growth is the reasonable price list. As it targets the young student crowd, it comprises the most affordable lipsticks in India. Hands down, the most convenient for your pockets.
The Color Pops Matte Lip Color is the best one under the Elle 18 brand. It includes bright and pop colors that just flushes your skin tone like no other. There are 40 shades within this lipsticks range with an accurate color range that suits everyone. The matte pop red color can also be a part of the best red lipsticks in India. Every shade is within the price range of 100. Exactly! Go grab a few right now.
Price Range: Rs. 100 Onwards
Having its origins from Switzerland, Chambor cosmetics had its first launch in the year 1993. They have ever since been a pioneer in the market in selling one fo the best beauty products in the country. It has a long history of providing amazing cosmetic collections among which lipsticks are considered top-class. The richness and poise in the different types of lipsticks are eye-catchy and modest at the same time. This is a hundred percent vegan brand and does not test its products on animals either.
Chambor Extreme Wear Transfer Proof Liquid Lipstick, Chambor Moisture Plus Lipstick, and Chambor Powder Matte Lipstick are the favorites in the market. It blends in the goodness of vitamins and other moisturizing properties. The Powder Matte gives you a never-drying lip look that stays fresh for a long time. Wear Transfer Proof Liquid Lipstick comes in an intensely color-pigmented range that requires you to complete the look in just one sweep. Their lipsticks are creamy and lustrous with therapeutic aromas in-built. However, these do come in a bit costly in comparison to other brands in the list of Top 10 Lipsticks Brands In India.
Price Range: Rs. 1000 Onwards
An amazing invention in the cosmetics and beauty care industry so to say. Italy manufactures Nykaa products but it takes its inspiration from the Indian masses hugely. Almost every range of beauty care, hair care, and skincare products from Nykaa are reflective to the likings of the Indian audience. Their bright colors, aromatic flavors, and nourishing properties are a big win in the market and are also huge in demand nowadays. Their lipstick rangers are a treat for the buyers as they compile some of the best formulas in creating both pop and subtle colors.
Nykaa Matte To Last! Liquid Lipstick, Nykaa So Matte Lipstick Collection, and Nykaa MATTE-ilicious Crayon Lipstick are the top-performing lipsticks in the Indian taste. It gives a plush, radiant, creamy appeal that is easily noticeable among a crowd. The lightest shades like the nude colors provide a natural appearance, complementing the skin beautifully. The Liquid Lipstick collection falls in the category of most affordable liquid lipsticks in India wherein the price range begins from Rs. 599. The Crayon Lipstick collection is convenient to use and effortlessly stick to the lips for a longer time-frame.
Price Range: Rs. 200 Onwards (Differs during offers)
Sugar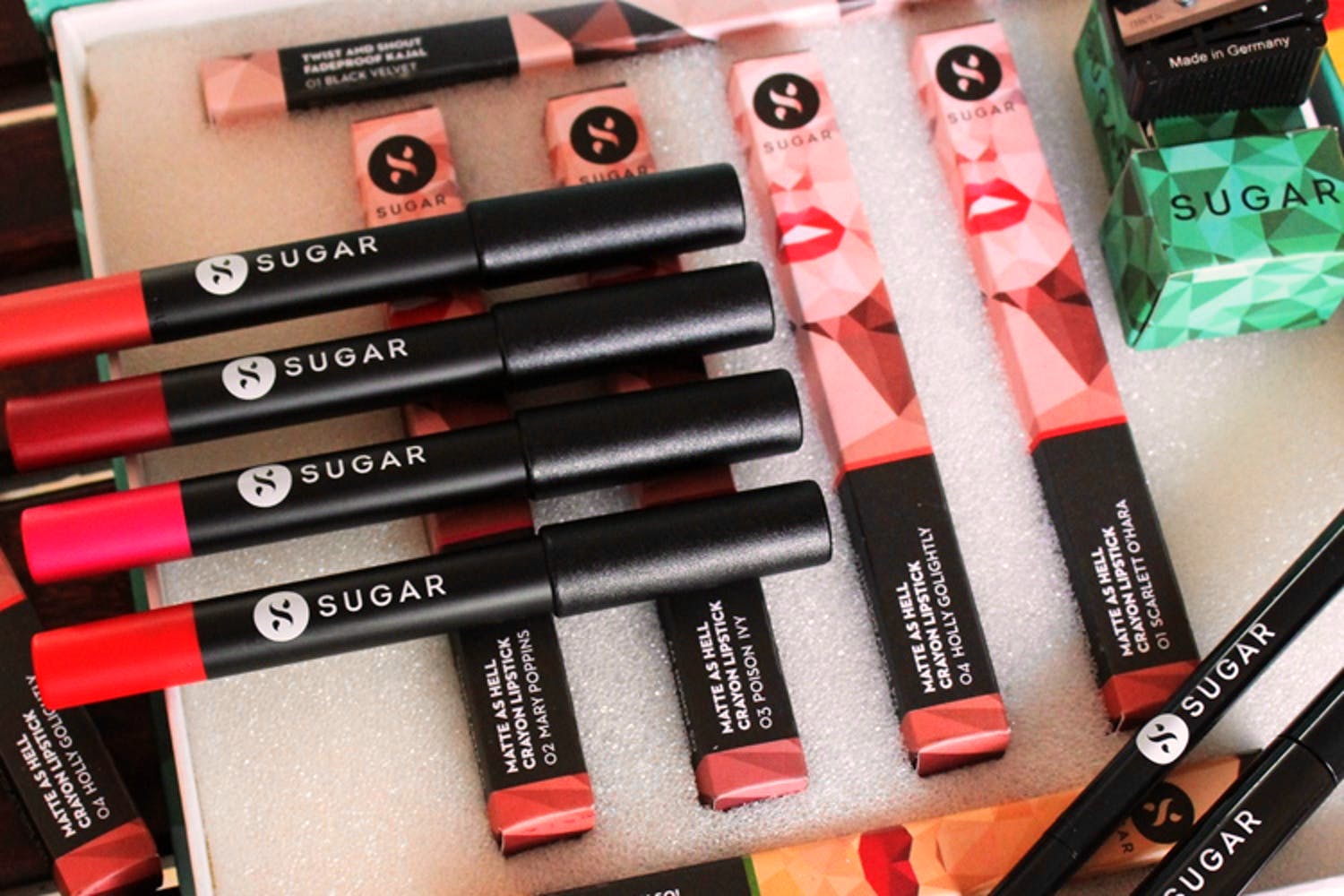 A massive cosmetics brand in India that has made its way to every woman's must-have make-up collection. Their various beauty products and appealing color ranges have become popular in the Indian market. Sugar cosmetics, to date, have around four hundred retails stores in the country alone. This explains their popular demand among make-up fanatics. Their availability in various online shopping sites is also one of the reasons for its growing success. Sugar comprises cruelty-free products and promotes luxurious quality in every way. The price range is pretty reasonable and falls somewhere in the middle between being too pricey and cheap.
Some fo the best lipsticks that have got supreme reviews are Sugar Matte As Hell Lip Crayon Lipstick, Sugar Smudge Me Not Liquid Lipstick, Sugar Plush Hour Matte Lipstick, and Sugar It's- A- Pout- A- Time! Vivid Lipstick. These gorgeous collections are a lifesaver in terms of affordability. The Smudge Me Not Lipstick collection comes under the affordable liquid lipsticks in India as it costs around Rs. 500. Also, as the name suggests, it does not smudge or budge at any point unless you remove it with a make-up remover.
Price Range: Rs. 350 Onwards
Top 10 Lipsticks Brands In India
Apart from the above qualitative brands in the market, there are a lot more popular and challenging brands out there. Some of which are globally rank the most influential brands. Like M.A.C, Lakme, L'oreal Paris, Maybelline, Dior, The Body Shop, Faces, and so on. These brands have made impressive growth over the years in countries worldwide. A lot of the Indian audience too trust these huge companies as it is one the chief players in the field of cosmetics and beauty products. Also, the intense color ranges are most sought after in these collections. The best red lipsticks in India will definitely have these brands up in the list as they are unbeatable in providing 'the complete look'.
Grab your favorites today and let us know what brands are more likely suitable for your overall personality. Go color shopping now!