Women and fashion are like blood bonds. They tend to have a natural instinct on the choices of fashion and eye for details. Some may like it simple and comfortable. And some others, funky and stylish. In today's collaborative world, there are contemporary styles of mixing up two extremes too. With a lot coming up in the fashion market, it is indeed hard to choose the best among them. Well, we have taken that responsibility for you. Here is a list of the Top Brands For Women's Clothing In India.
There are new trends in jeans, Kurtis, short tops, skirts, and much more. Evolving designs under all these segments are part of the most promising brands. And we have not forgotten to add such brands in the Top Brands For Women's Clothing In India. There is a ravishing freshness in this list that will urge you to look into some new outfits right away. The fashion industry is ever-growing and newer clothing models are bound to come. Price ranges may vary from one piece to another, but the quality is a must while spending money on fashion.
There is a chance that you might land up buying something that you later regret. It is best that you look into some options beforehand before you end up taking that high leap. In this list, you will find from the most expensive clothing brands in India to the cheapest ones. Affordable clothing brands in India manage to sneak in this too. Get to know the different brands and start investing in the best ones in the market. Let's dive right into the Top Brands For Women's Clothing In India.
BIBA Apparels is an Indian brand founded by Meena Bindra in 1988. This brand constitutes everything ethnic in the Indian sense. From block prints to polka dots, you get a range of flowy designs that are both comfortable and eye-pleasing. There are a variety of clothing within the Indian context that includes Kurtiskurtis, salwar suits, contemporary dress, tops, skirts, scarves, and now some handmade masks as well. Despite its huge branding value, BIBA apparel is the most affordable clothing brand in India.
This brand had its first store in the year 2001 in Delhi. Its main motive is to sell a combination of the West and East together in the form of comfort apparel. Aurelia best identifies as a contemporary design brand that infuses both the trendy and old age styles. Their palazzos and contemporary Kurtis are a hit among masses. Basically, their ideology clicks with the 'mix and match' concept which was quite new to the Indian audience when they first began. Falling under the category of the affordable clothing brands in India, Aurelia serves for the new-age modern women who appreciate the old classics too.
A brand that never compromises its quality. W for Woman is a credible brand that you can rely on with a blind eye. The designs are futuristic and classy, with their fabric providing the best of comfort and plush. Their materials are of utmost quality and they stay put for a very long time with the same freshness as a new garment. It is best known for Kurtis and dresses. W for Woman also has a collection of footwear that raises your style quotient with much ease. It is a bit pricey on the docks and hence takes its place in one of the most expensive clothing brands in India.
Owning a Fabindia apparel will make you just so proud of your decision. And it comes because of various reasons. The simple yet elegant classic attires in the Fabindia range of clothing caters for every occasion in the world. Be it a cousin's wedding or a casual outing. Although the designs are simple and not so eye-popping(ly) colorful, there is minimalist excellence in each of the garments. You will believe it yourself once you own one of their clothing products. The main catch to this is that all the apparels that comprise Fabindia are made from rural craftsmen around the country. Hand craftsmanship is very much evident in each of the products and the dyeing process is also of organic quality. Due to this authentic crafting, the price comes on the higher side. One of the most expensive clothing brands in India but never fails to amuse you.
AND offers some exciting range of clothing that is bound to make you curious. There are stripes for the bold minds, embroidery works for the ethnic lovers, plain stiff ones for the minimalist appeal, pastels for the spring feel, and much more. Though they do have a satisfying collection for Kurtiskurtis, I would recommend AND for their range of western wear. The jackets and dresses need a special mention here as they instigate a classy urban look. Their sales and offers are a treat. Considering that, they do come under the affordable clothing brands in India.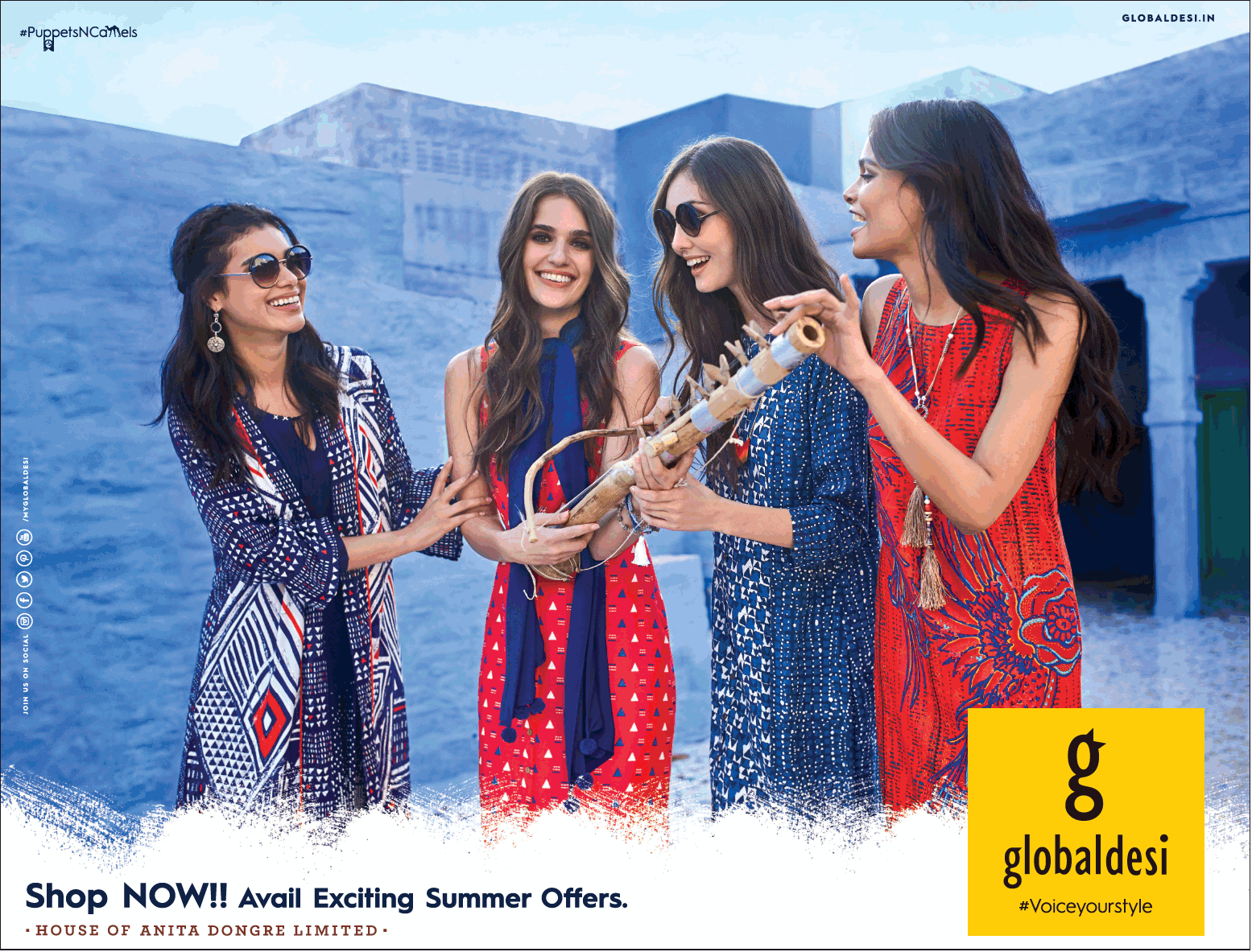 The company, Ochre and Black Private Limited, which owns the fashion line- AND, also owns this suave fashion line. While AND is more of a western wear favorite, Global Desi gives you the Boho-chic appeal. The dresses and tops are a flowy parade that comes in as a comforting wardrobe. Each of the fabrics is light-weight, making it easeful wear. The ranges include a sort of a modern twist to the Indian fashion. As the name itself suggests, the brand is globally a hit and well-received by the desi lovers abroad. Their price range comes somewhere between the affordable to the cheapest clothing brands in India.
The awe-inspiring designs from this brand will leave you shopping for more. An urban chic look is the highlight of these collections. Each of the attires has a history of culture in it, intertwining with the modern trendy styles. A very smooth and flamboyant dressing up style is the takeaway from this designer wear. There is something fresh and new in each of the collections, be it short tops or office pants. The modern Indian women look is what it conveys through its attractive ensemble. Since it is put under the designer wear category, the prices make it to the most expensive clothing brands in India list. Check out their sale offers that come up now and then on their site. It is totally worth it!
Wit, Warmth, Honesty, Spontaneity, and Community. These are the five pillars with which Chumbak functions. The love for traveling and collecting souvenirs is what drove the creators to build a platform like Chumbak. Eventually, their experiments with fashion also came into place, resulting in their chirpy wardrobe collections. Every attire will feel like an extension of your personality that will seamlessly fit in your personal favorites. You will see a lot of cultural implications on their apparel which shows their traveling interests quite well. Chumbak is basically the infusion of different cultures with the Indian audience in mind. You will find everything from plain formal wear to quirky loungewear. The price range comes between the most expensive to the affordable clothing brands in India.
A fine line of clothing that just mesmerizes you with the simplistic yet functional designs. There are bold plain t-shirts and funky dresses to go with your likes. With the young approach in mind, the cozy outfits come as a breezy feel to not only wear but also pleasing for the eyes to see. Top Brands For Women's Clothing In India finds the Madame brand fitting enough into the list for their novel approach. They also create apparel for men and kids with equal fun and vigor. Their pricing falls somewhere between affordable to the cheapest clothing brands in India.
Like its name, the Quirk Box is one of the most eye-candy brands available in the market. It is for people who love art and artsy attires. The creators basically combine graphic art and designs with fashion, giving out the best of both worlds. It is vibrant and full of colors. When you want to make a style statement and make it large, then Quirk Box gives you that platform to do so. It acts as a catalyst that triggers your inner fashion enthusiasm like no other. 'Bold and Bright' is the apt tagline for this color-chic fashion line. The brand serves a lot of exclusive levels and hence comes very pricey on the list. It is, no doubt, one of the most expensive clothing brands in India.
Top Brands For Women's Clothing In India
Fashion keeps evolving every minute and trends keep emerging every second. What may be today's talk of the town, maybe tomorrow's normal. There is nothing fixed in the fashion market. Hence, to carry out a brand and create a legacy of its own is not an easy task. Even the minute details in the process of creating exotic apparel are hard work and sweat. With that understanding, there are some amazing cloth lines that have made their names prominent in this industry. Some of the most favorites among the Indian crowd are Zara, H&M, Levis, Pantaloons, Louis Philippe, Maybell India, and so many more. These brands never fail to deliver a promising look for your sense of style. In fact, these are some names that will constantly remain in the list of Top Brands For Women's Clothing In India.
There are attires for different occasions now and you are left with so many options to choose from within distinguishing brands. Universally, clothes are also a means to understand culture and tradition which makes fashion a prestigious platform. If you notice, certain brands are known much more credibly due to the influence of the particular country's taste and color. It is an indirect satisfaction of having possession of something you admire the most. There is some story in every handloom and fabric you meet. The weaving process, creation of designs, dyeing procedures, fitting tailors, cutting edge technology, printing artistries, are all intriguing functions part of the fashion industry. The uniqueness with which each brand comes about at the later half is something amusing to watch out for.
With that note, we will let you decide on your favorite ones from this list. Let us know what other brands you think to deserve a position in the Top Brands For Women's Clothing In India.
Happy Shopping!